Powerhouse Museum Late: Gaming Event Recap
On September 1st, Game Plus and the Powerhouse Museum teamed up to bring about a free public event centered around the Australian-based Video Game industry. It was a mammoth effort from both sides, with everyone putting in their best foot forward to bring an amazing new gaming event to the public after the long drought of events over the past few years. What transpired was a massive night with over 1,400 in attendance.
Game Plus brought in a slew of Australian-based game developers and studios, including a number of Screen Australia Games Expansion Pack Fund recipients this year. It was a mix of Game Plus members and developers from across the country who were thrilled with the reception, feedback, and energy of the public on the night. In total, fifteen booths were set up on the night with games for the attendees to play in our game developer alleyway.
The following developers and studios were in attendance and showcased:
Arcade Oven
Rollerchimp
Kite Shield Interactive
No Moss Studios
Dinopoke
One Up Entertainment
Turtle Hat Productions
Blowfish
Zabdiel Mendoza
Chaos Theory Games
Tempo Lab Games
Callum Denmead
Cactus Jam Games
Cutlass BoardGames
Patrick Naoum
The event brought a range of experienced and emerging developers. One new team was Turtle Hat Productions, a group of second-year AIE students who showcased a month-old build of their final project, Retail Wars. This was a tremendous effort from the students, who had a great showing, fully embraced the experience, and are now busy implementing as much of the feedback as possible for their final submission later this year.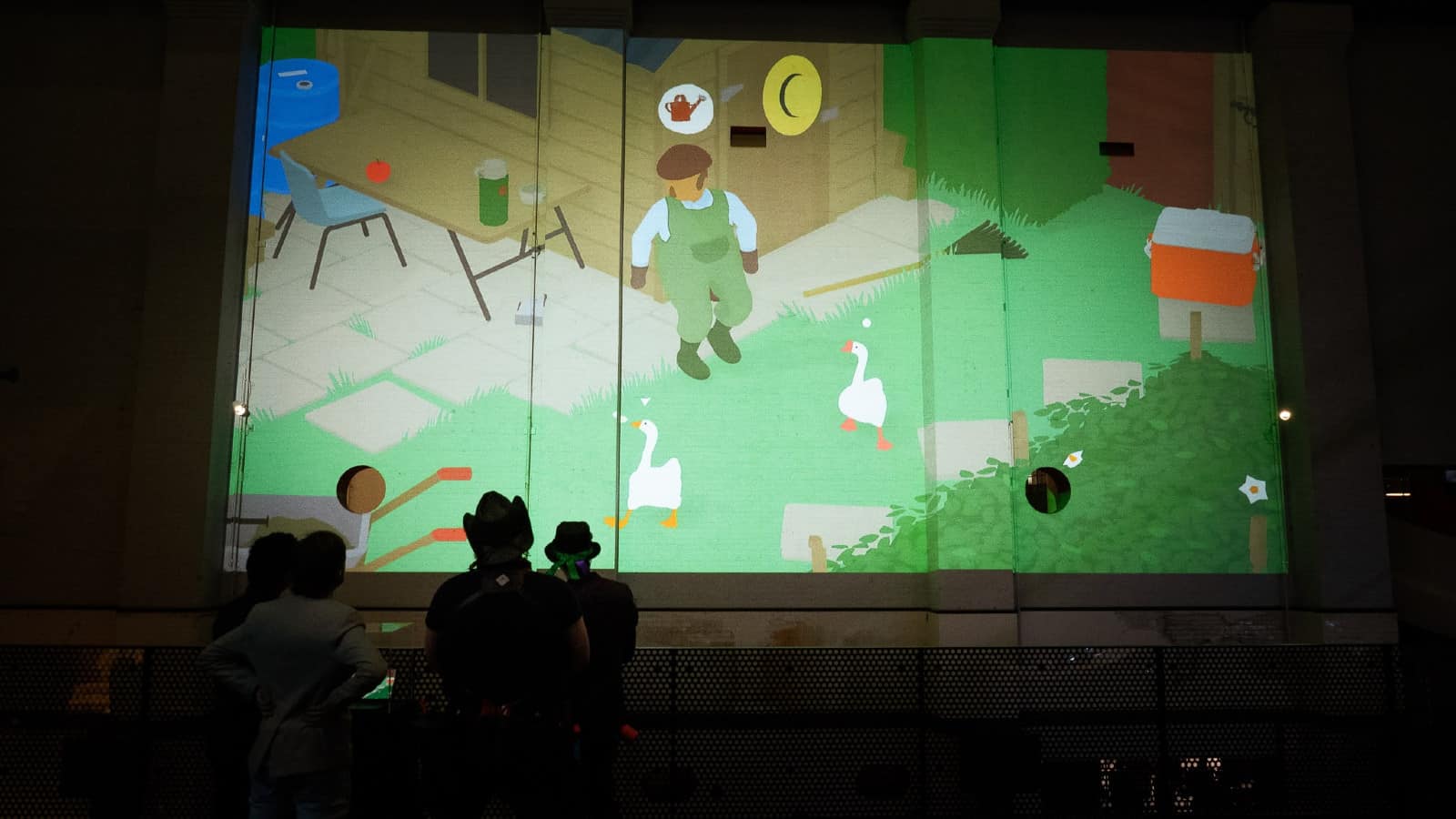 Just seeing such huge numbers of people playing and enjoying Australian-made games was a wonderful sight. This was most evident with the Untitled Goose Game on display, projected onto a huge Museum wall. Seeing two devious geese cause chaos and destruction in such a wholesome and hilarious way really set the mood for the night, especially as this was the first thing attendees saw as they entered the Museum that night.
For Game Plus, this event was huge. Our team leader, Jarrod Farquhar-Nicol flew in from Canberra for the night and helped facilitate the event. This is what he had to say about the night:
"Australia has an incredible game development scene and Sydney is a huge part of that. The overwhelmingly positive reception and huge attendance numbers at this event go to show both the amazing talent and creativity in NSW and Australia and that there is a massive audience here excited for locally made games."
The Museum itself was such a cool and interesting space to hold a gaming event. The mix of modern-day games and exhibitions was a stark contrast. The Late Night event was spread all across the building, so in between pop-ups were snippets of history and art that had many attendees pausing to look at some point. The Museum presented a unique and memorable space that was more than welcoming to our needs and receptive throughout the whole planning phase. The Museum staff were even more excited about the event that we and the wider gaming community were.
It was fantastic to work with the Museum staff together on something that meant so much to the community. Chloe Appleby, an Assistant Curator at the Powerhouse Museum, spoke on the night about why they ran the event"
"Through this event the Powerhouse is supporting the gaming community and industry to celebrate the artistry and expertise involved in game development, and the cultural significance of gaming."
Beyond the showcase of digital local games on display and play that night, the event welcomed crowds of cosplayers, and featured a dedicated board game development section, retro arcade cabinets, a drinks bar by Grifter, a DJ show, and Magic: The Gathering. The Museum even brought out its collection of gaming consoles and objects from over the years on display.
Overall, the night was a huge success for all. We here at Game Plus want to thank everyone who came and all the developers and the amazing Museum team and staff who helped make it possible. We cannot wait to do it all again, hopefully, next year we can host an even bigger celebration of games.